Introduction
Using a projector is key for clearly presenting to groups in conference rooms or large venues. But with so many projector models available, how do you pick the right one for your business needs?
This comprehensive buyer's guide covers the key factors in choosing a projector for delivering winning business presentations. We'll examine critical criteria like brightness, resolution, connectivity, lens options, and portability.
Key Considerations
Brightness
A projector's brightness or lumens rating determines visibility in different lighting conditions. For business use, choose a minimum of 4000 lumens for clear images in ambient light. Brighter 6000+ lumen models are better for unconditioned spaces.
Resolution
For sharp text and details, opt for a projector with at least 1920 x 1080 (1080p) native resolution. Lower resolutions look pixelated up close. High-end models have 3840 x 2160 (4K UHD) for ultra-fine image quality.
Contrast Ratio
Higher contrast ratios like 20,000:1+ result in deeper blacks against bright backgrounds like spreadsheets or documents for easy viewing.
Lens Shift/Zoom
Models with powered horizontal and vertical lens shifts make alignment much easier in different ceiling mount or table positions. Zoom lenses provide flexible image sizing.
Connectivity
Look for at least 2 HDMI inputs to connect laptops, tablets, and media players. VGA is useful for older laptops. Wired LAN and wireless connectivity enable easy networking and streaming.
Weight and Size
For portability, projectors around 5 pounds with compact dimensions fit easily in a computer bag or carry case. Larger fixed installation models can weigh over 20 pounds.
Warranty
Opt for a model that includes at least a 2-3 year manufacturer warranty to safeguard your investment in the projector. Extended warranties provide further years of coverage.
Lamp Life
Higher lamp life ratings like 15,000+ hours in normal mode minimize costly lamp replacements. Eco modes extend life even longer at lower brightness.
Best Projector Types for Business Use
Conference Room Projectors
Compact and portable, these are designed for small-to-midsize business presentations. Key features include:
Integrated speakers
Around 4000 lumens
1080p resolution
Auto adjustments like vertical keystone
Miniature size, usually under 7 pounds
Large Venue Projectors
Made for audiences from 50 to thousands, key traits include:
Extreme brightness up to 20,000 lumens
1920 x 1200 or 4K for clarity when enlarged
High 20,000:1+ contrast ratio
Interchangeable lenses with motorized shift
Rigging and stacking options
Short Throw Projectors
Allow positioning just 1-2 feet from the screen for space-challenged areas:
Ultra short throw lenses
Interactive whiteboard compatibility
Built-in whiteboard annotation tools
Around 3500 lumens brightness
LED/Laser Projectors
Use innovative solid-state light engines with long life and bright images:
No lamps to replace
Up to 30,000 hours lifespan
Consistent brightness over time
Usually 1080p resolution
Great for maintenance-free operation
Pico Projectors
Tiny pocket size units enable big screen projection from a phone sized device:
Weigh less than 1 pound
Around 100 lumen brightness
Battery powered
Best for small informal gatherings
Top Projector Brands
Popular projector manufacturers known for quality and reliability include:
Epson
Renowned for advanced 3LCD projection engines that deliver accurate, true-to-life color. Their PowerLite line offers models for every business need including conference room, home theaters, large venue and interactive.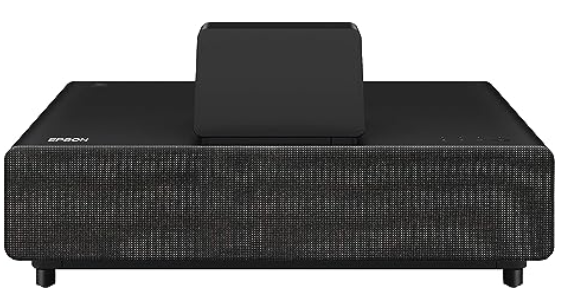 Enhance your entertainment with the Epson EpiqVision Ultra LS500 Laser Projector. Enjoy captivating visuals on a large 130-inch screen with stunning clarity. This advanced projector supports up to 4K content and offers immersive Full-HD HDR picture quality, perfect for TV shows, sports, gaming, and movies.
BenQ
Top choice for gaming enthusiasts also offers great business and education models like the MH530FHD for small business use with 1080p clarity, 3300 lumens and handy carrying handle.

Immerse yourself in unparalleled gaming and entertainment with the BenQ TH685 1080p Gaming Projector. Elevate your experience with its outstanding features.
Experience lifelike visuals with 1080p resolution and 4K HDR support. The projector's impressive 3500 ANSI lumen brightness ensures crystal-clear content, while its 95% Rec. 709 color accuracy delivers vibrant and authentic colors for a truly immersive visual adventure.
Optima
Leading home theater models with many also ideal for conference room and classroom applications, such as the bright 4200 lumen X341.\
Enhance your entertainment with the Optoma HD146X High Performance Projector, catering to movie and gaming enthusiasts. Dive into cinematic excellence with its native 1080p resolution (1920×1080) and the RYGCWB color wheel, ensuring dynamic high-definition visuals that vividly animate your content with accuracy.
ViewSonic
Known for value, ViewSonic has lightweight affordable models like the PA503S with 3600 lumens and HDMI connectivity that are perfect for businesses on a budget.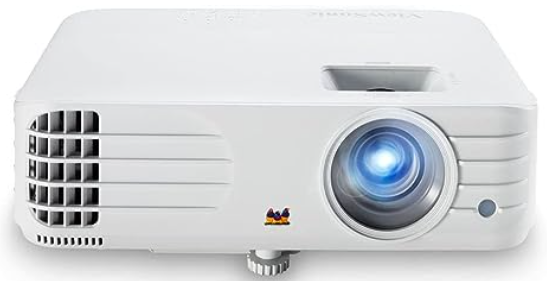 Experience a realm of colossal entertainment with the ViewSonic PX701HD 1080p Projector. Immerse yourself in cinematic journeys and captivating gameplay with Full HD resolution (1920x1080p) on a screen that spans up to an astounding 300 inches, delivering theater-like colors that come to life.
LG
With advanced LED technology like their solid state LASER CineBeam projectors with up to 20,000 hours of maintenance free operation for complete reliability.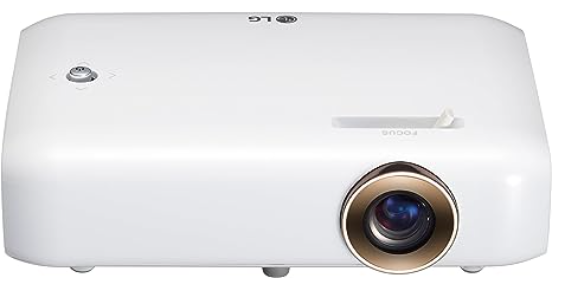 Elevate your portable golf simulator experience with the LG CineBeam PH550. With a built-in battery for cordless operation, this compact LED projector delivers wireless streaming and over 2 hours of unplugged use. Enjoy vibrant images on screens up to 100 inches, easily adjusting the projection angle with the included tripod mount.
Key Selection Criteria
To determine the best projector for your specific business needs, carefully consider these factors:
Room Size
Determine how large of a venue and screen size you need to accommodate. Larger spaces require brighter projection.
Portability
If presenting in multiple locations, prioritize compact lightweight models around 5 pounds with carry bags.
Screen Placement
Factor in projector placement options for your room layout. Short throw models can position close to a wall or screen.
Ambient Light
Minimize windows and bright light. If unavoidable, choose higher 5,000+ lumen projectors.
Connectivity
Think about wired and wireless connectivity requirements to link laptops, mobile devices, cameras, mics and other media sources.
Budget
Projector pricing ranges widely based on brightness, resolution and features. Determine how much you can invest while still meeting quality and functionality needs.
Future Needs
Consider if your business is growing and needs may change in the next few years to select a projector that will continue to perform well as demands evolve.
Conclusion
Selecting the right projector is critical for making winning presentations to clients, investors, employees or large groups. Determining the required screen size, brightness, connectivity options and portability for your particular business needs will allow you to choose the ideal model. Leading projector manufacturers like Epson, BenQ, Optoma, ViewSonic and LG offer excellent options for businesses across the full range of sizes and budgets. Investing in a quality projector designed specifically for business applications will provide many years of hassle-free usage and ensure your presentations always shine.