Introduction
4K ultra high definition (UHD) projectors take gaming visuals to the next level with stunning clarity and immersion. Packing over 8 million pixels compared to 2 million on 1080p models, these projectors let you see games in extraordinary detail.
This guide will reveal the top five 4K projectors tailored specifically for serious gaming. We'll explore their advanced graphics engines, low latency, gaming modes and connectivity that enable responsive, lifelike gameplay. Whether you're a competitive or casual gamer, these projectors let you see everything in your favorite games in a whole new light.
Benefits of 4K Projectors for Gaming
Increased Resolution
With four times as many pixels as 1080p, 4K projectors render textures, environments and effects with incredible realism. You'll notice subtle graphical nuances you never saw before.
Larger Screen Sizes
The extra resolution allows seating closer and using massive 130" screens without seeing individual pixels. This amplifies immersion in the gaming world.
Smoother Motion
4K projectors utilize high speed imagery processors combined with gaming modes to reduce input lag and motion blur. This enables much more fluid, lifelike animation.
High Dynamic Range
Many 4K projectors support HDR which boosts peak brightness, black levels and color for stunning contrast. Explosions, rays of light and weather effects will leave you awestruck.
Future Proofing
As more advanced Playstation 5, Xbox Series X and PC games output native 4K, a 4K projector will remain cutting-edge. You'll be ready to display the latest graphical developments.
What to Look for in a 4K Gaming Projector
Low Input Lag
Input lag measures the delay between controller input and screen response. For competitive gaming, projectors with lag under 30ms ensure smoother, more responsive control.
Gaming Modes
Preset picture modes optimized for gaming enhance responsiveness. They disable video processing for faster on-screen action. Some enhance color and contrast for added impact.
High Contrast
Deeper blacks and more luminous highlights courtesy of high contrast ratios make effects like explosions and spells look more dynamic. Look for at least 20,000:1 contrast or higher.
UHD Resolution
Projectors must have native 4K resolution or use advanced processing like pixel shifting to achieve Ultra HD 3840 x 2160 or 4096 x 2160 resolution and beyond 8 million pixels.
HDR Compatibility
For the best lighting and color, ensure the projector supports popular HDR standards like HDR10, HLG and Dolby Vision. This expands the contrast and color range.
Top Five 4K Gaming Projectors
Based on gaming-centric features, performance and cutting-edge visual capabilities, these 4K models deliver an unbeatable immersive gaming experience.
BenQ's excellent DLP 4K gaming projector touts super fast 4ms response time and 30Hz motion interpolation for stutter-free gameplay. HDRi dynamically optimizes HDR colors and contrast in real time. Features lens memory and flexible focus.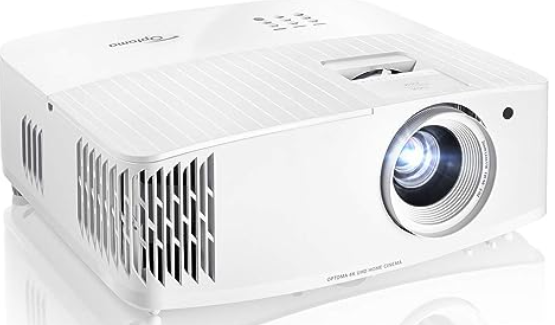 This highly affordable 4K option sets up quickly with vertical keystone correction and delivers smooth gaming with a dedicated 16ms enhanced gaming mode. 3,600 lumens fills screens up to 200 inches.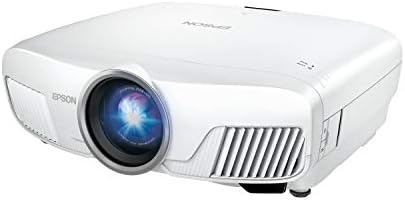 Epson's fast 240Hz 4K-PRO projector handles motion like a champ. It renders over 1 billion colors and has dedicated gaming modes with its popular 3LCD engine. Features high-powered 18 Gbps HDMI inputs and processing.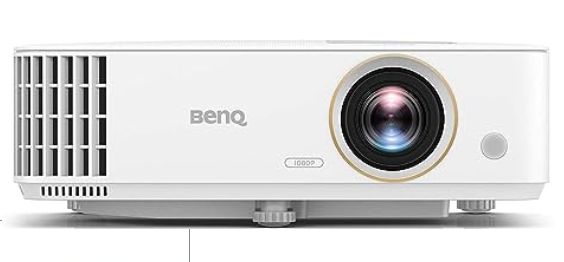 The BenQ TH585 has an extremely short throw distance, needing just over 5 feet to produce a massive 100-inch image. This is perfect for golf simulator setups in compact rooms.
This single-chip DLP projector outputs vivid colors and excellent image quality courtesy of BenQ's Colorific technology. Details look sharp whether you are targeting a pin or reading greens.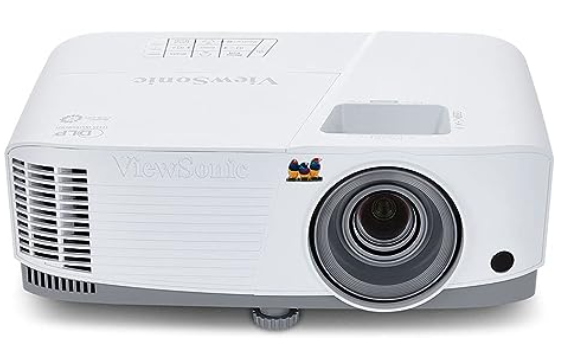 Weighing just 5.5 pounds, the ViewSonic PA503S is an incredibly portable projector perfect for use in different golf simulator locations.

This high definition LED projector delivers stunning visuals whether set up indoors or outdoors. It has an optimized short throw lens for projecting large screen sizes from close distances. Images look uniformly bright with SuperColor tech.
Choosing the Right Screen for 4K Gaming Projection
To complete your immersive 4K gaming setup, pair your projector with a high performance projection screen in the appropriate size for your room's seating distance.
Size
For 4K, plan on screens between 100 to 300 inches measured diagonally for fully immersive coverage in your field of view.
4K Enhanced Materials
Using woven screen materials engineered specifically for Ultra HD 4K resolution will ensure you see all the fine graphical details.
Ambient Light Rejecting
ALR materials use multi-layer construction to absorb room lighting while still reflecting ultra sharp imagery ideal for daytime gaming.
Acoustic Transparency
Screens that allow sound to pass through let you position speakers directly behind for seamless integration – great for surround sound effects.
Extra Wide
For multi-player gaming, choose an extra wide 2.39:1 scope screen to allow side-by-side seating so everyone can fully see the action.
Conclusion
For gaming to truly come alive, a fast, high resolution 4K projector paired with a immersive extra large screen can make the virtual world feel real. Models from respected home theater brands that incorporate specialized gaming features will ensure fast response times and jaw-dropping visuals whether playing solo or cooperatively. A serious gamer owes it to themselves to game on a big screen 4K projector system.