When setting up a home theater, one of the biggest decisions is projector screen color – should you go with a white or black screen? Screen color greatly impacts the viewing experience. This in-depth guide will compare black vs. white screens to help you determine the best fit.
Factors to Consider with Projector Screen Color
Before deciding on black or white, consider these factors:
Room Lighting – Black screens help eliminate washout from ambient light. White works better in dark, controlled environments.
Projector Lumens – High lumen projectors starting at 2500+ are best for black screens. Lower lumen models under 2000 will look overly dim.
Screen Size – Black screens help improve contrast on larger 120"+ screens. Smaller screens under 100" see minimal difference versus white.
Seating Position – Black screens give a wider viewing angle but seating should be closer. White screens allow further seating distance.
Screen Gain – Black screens require higher 1.4+ gain. White screens look better with a gain around 1.0.
Benefits of White Projector Screens
White screens are the most popular choice, especially in dedicated home theaters. Here are some benefits:
Allow for further seating distance – White screens have a wider viewing cone so you don't need to sit as close. This allows for more flexible room layouts.
Wider selection of materials – Matte white, glass beaded, painted on, acoustic transparent – white screens offer endless material options.
Brighter image – White provides the brightest possible projected image, maximizing your projector's luminosity.
Better color accuracy – Colors appear more balanced and natural on white. Black can make some colors appear dark.
Flexible with different light levels – White screens work in both dark and ambient light rooms.
White screens like this Elite Screens model offer great color accuracy
Most industry experts recommend white screens for dedicated home theater rooms with controlled lighting. As Projector Wizard highlights, white allows flexible seating placement and provides accurate color reproduction.
Benefits of Black Projector Screens
However, black projector screens offer some unique advantages:
Eliminate washout from ambient light – Black doesn't reflect surrounding light, preventing washed out images.
Increased contrast – Blacks appear darker on black screens, making colors and contrast "pop" more.
Enhanced dimension – The greater perceived depth increases immersion in movies.
Reduced visibility of speakers/equipment – Dark surroundings help hide hardware.
Flexible placement – Black screens don't require the room to be as dark, allowing for more placement flexibility.
As reviewed by ProjectorScreen.com, black screens excel for media rooms with some ambient light or for optimizing contrast on large screens exceeding 120 inches. The downside is that seating needs to be closer.
Recommended Black and White Screen Models
Elite Screens Aeon Series
– This popular white screen provides a range of sizes from 100″ to 150″ with a flexible 1.1 gain. The low price makes it a top pick for white screens under $300.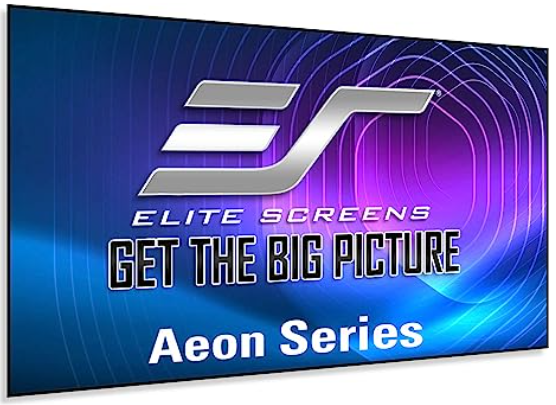 Experience the ultimate in home theater entertainment with the Elite Screens Aeon Series 120-inch 16:9 Fixed Frame Projector Screen. Immerse yourself in stunning 8K/4K Ultra HD visuals on the CineWhite UHD-B screen, designed for superior color accuracy and contrast. Our screen's 1.3 Gain and 180-degree viewing angle ensure a breathtaking cinematic experience from any seat in the room.
CERTIFIED COLOR ACCURACY]: ISF Certified for lifelike color reproduction, guaranteeing captivating presentations that mimic reality.
[EDGE FREE DESIGN]: The screen's borderless, EDGE FREE design not only enhances its visual appeal but also minimizes distractions, ensuring an uninterrupted viewing experience.
[CRYSTAL-CLEAR IMAGES]: The CineWhite UHD-B material provides an immersive canvas for 4K Ultra HD and Active 3D projections, while its black-backed surface ensures vivid and sharp visuals.
[EASY ASSEMBLY]: Our lightweight split aluminum frame is easy to assemble, making setup a breeze. Wall mount brackets are included for secure and centered installation
Stewart Filmscreen StudioTek 130
– For a premium home theater screen, this 130″ white model offers high uniformity and light absorption with its .95 gain. Expect superior color accuracy under $2,000.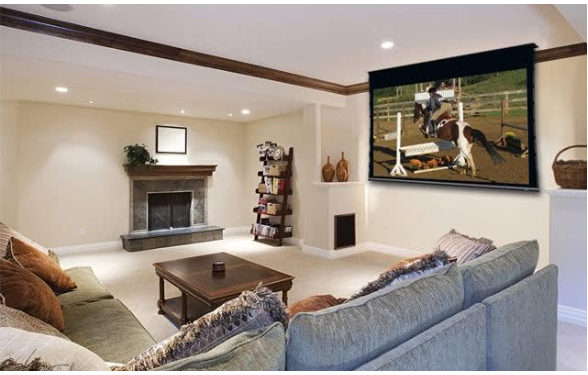 Experience unparalleled quality with the Stewart Cima 110 Electriscreen HDTV Projection Screen. Meticulously designed and crafted in the USA by Stewart's award-winning team, the Cima projection screen caters to both residential and commercial settings. Offering a harmonious blend of top-tier performance and exceptional value, Cima is the go-to choice for those seeking cutting-edge projection without compromise.

Unrivaled Performance: Optimal screen material uniformity for superior visual experience.
Versatile Compatibility: Standard sizes & ratios for easy ordering, ideal for various settings.
Tailored View: White screen for controlled lighting, gray screen for ambient light compensation.
Future-Proof Projection: 4K+ ready, ensuring your investment lasts.
Eco-Friendly Innovation: Patent-pending methods for efficient, environmentally-conscious production.
Made in the USA: Crafted by Stewart's award-winning team, ensuring top-tier quality.
Stewart Legacy: Decades of expertise in projection screens for unbeatable performance
SI Zero Edge Pro
– This 120″ extra-large black screen delivers increased contrast thanks to its .8 gain and pure black material. It costs just over $500 for immersive viewing.
VividStorm Floor Rising
– This electric 120″ black screen deploys seamlessly at the push of a button. 1.4 gain improves contrast without sacrificing brightness.
Introducing the Vivid Storm 120 Inch S PRO Motorized Floor-Rising Screen – your gateway to a breathtaking cinematic experience. Designed with meticulous attention to detail since 2004, this screen redefines home entertainment. Immerse yourself in stunning visuals, vibrant colors, and unparalleled clarity, all with the convenience of a motorized floor-rising design.

Perfect Visuals: 120-inch diagonal with 16:9 aspect ratio for a captivating experience.
ULTRA-SHORT THROW AMBIENT LIGHT REJECTING: 0.6 Gain and 97% ALR resistance for vivid 170-degree viewing.
8K/4K Ultra HD Ready: Support for high resolutions, bringing content to life.
Eye Protection: Larger images put less strain on eyes, creating a comfortable viewing experience.
Fast & Easy Installation: Plug and play with 1-minute setup, no screws required.
Space-Saving Design: Motorized floor-rising with Wire Tension Technology for a sleek appearance.
Frequently Asked Questions About Projector Screens
What size projector screen should I get? Your seating distance determines ideal size. Sitting 10 feet away? Aim for a 100" to 120" screen. 15 feet away? Go for 150" or larger.
Is a projector screen necessary? While you can project onto a wall, a proper screen improves image quality. They have surfaces designed to optimize the projected image.
How do I choose between 16:9 vs 2.35:1 aspect ratio? 16:9 is best for HDTV and streaming. Go 2.35:1 if watching movies in wider cinematic formats.
Should I get a fixed or electric screen? Electric screens cost more but offer convenient control and hide away neatly. Fixed frames work well for permanent installations.
Is sound transparent screen material worth it? If speakers are behind the screen, sound transparent materials allow audio to pass through clearly.
Determine the Right Screen for Your Needs
Projector screen color has a big impact on the image. Follow these tips:
Black for rooms with ambient light, large screens.
White for dedicated theaters with dark lighting.
Get a high gain around 1.4+ for black screens.
Don't skimp on white screens – go for quality materials.
Ensure your projector has enough lumens – 2,500+ for black.
By taking seating, lighting, and usage into account, you can create the perfect viewing experience. Your projector will shine when you pair it with the ideal screen.