Camping is a beloved pastime for many, offering a chance to disconnect from technology and connect with nature. However, after the sun sets, families and groups want an entertainment option besides just sitting around the campfire. This is where a portable projectors for camping comes in handy!
A portable projector allows you to turn any camping trip into an outdoor movie night under the stars. In this comprehensive guide, we will cover the benefits of camping projectors, factors to consider when buying one, and recommend the top portable models in 2023 for every budget and use case.
Benefits of Bringing a Projector Camping
Here are some of the main advantages of having a portable projector for camping:
Entertain the Whole Group
A projector lets everyone gather together and enjoy a movie, TV show, sports game, or slideshow. This brings the group together after dark for shared entertainment.
Lightweight and Compact
Modern projectors weigh as little as 1-2 pounds and fit into a backpack or tote bag. Easy to carry and set up at the campsite.
Run Off Battery or Direct Power
Most portable models can run 3+ hours off a built-in battery so you don't need power access. Some also accept direct DC power input from external batteries.
Project Huge Picture Size
Get a 100-150-inch screen to rival a movie theater! Way better than huddling around a phone or tablet.
Outdoor Visibility
LED and laser projectors are bright enough for outdoor viewing on the tent, side of the car, inflatable screen, or improvised screen.
Built-in Speakers
No need to pack separate speakers. Quality sound right from the projector. Some models also have audio-out ports for connecting larger speakers.
Versatile Inputs
Modern projectors have HDMI, USB, and wireless connection options to hook up media players, gaming systems, smartphones, and more.
What to Look for in a Portable Camping Projector
Keep these key factors in mind when choosing a camping projector:
Brightness
Look for at least 100-200 ANSI lumens to overcome ambient light at the campsite. LED and laser projectors tend to be the brightest.
Resolution
For sharp image quality, look for at least 720p (1280×720 pixels) resolution. Many affordable models now offer 1080p (1920×1080).
Throw Distance
Consider how far back the projector will be placed from the screen. Short-throw models can project a large image from just a few feet away.
Battery Life
For off-grid power, battery-powered models should last 2-3 hours on a charge. Some have swappable batteries for extended use.
Size and Weight
Look for projectors under 3 pounds that easily fit into a bag or backpack. Compact size also enables flexible placement.
Speakers
models with 5-10W built-in speakers provide decent sound without needing to connect external speakers.
Inputs
HDMI, USB, and wireless connectivity allow connecting media players, gaming systems, and mobile devices.
Warranty
A 1-3 year manufacturer warranty provides peace of mind for a long-lasting product. An extended warranty is ideal for equipment taken on frequent camping trips.
The Best Portable Projectors for Camping in 2023
Based on the above criteria, below are our top picks for portable camping projectors across various budgets and use cases:
Anker Nebula Solar Portable
This 3-pound LED projector is one of the best all-purpose outdoor models with 400 lumens brightness, 1080p resolution, and 2-hour battery life. It has an integrated stand, Android OS, and speakers making it super versatile. The Nebula Solar is compact, positioned as an entertainment projector suitable for big-screen viewing in backyards and campsites.
Very portable at 3 pounds with a carrying case
400 lumens bright
1080p HD resolution
Android TV interface
2-hour battery life
Integrated stand and speakers
Not the brightest for really large projections
Shorter battery life than some models
LG PH550 CineBeam LED Projector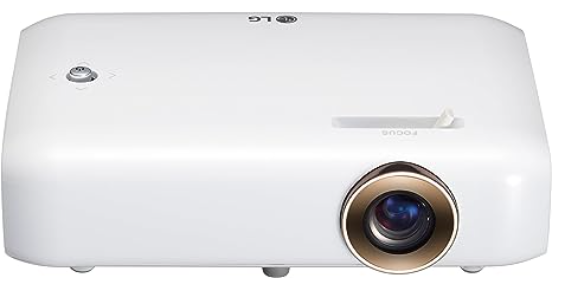 The LG PH550 is a top-rated portable cinema LED projector offering 600 lumens of brightness, 1280×720 resolution, and a long 6 hour battery. It has wireless content mirroring plus HDMI and USB ports. The compact 2.2 pound chassis makes it easy to pack along to project up to a 100" screen.
Very bright at 600 lumens
Long 6-hour battery life
Wireless mirroring from phones/tablets
Lightweight 2.2-pound design
720p resolution (not full 1080p)
1-year warranty only
ViewSonic M1 Mini Plus
This tiny but mighty LED projector weighs just 1.5 pounds. It delivers 250 lumens brightness and full HD 1080p resolution. The integrated 6-hour rechargeable battery and Harman Kardon speakers make this an extremely portable all-in-one camping projector.
Very lightweight at 1.5 pounds
Full HD 1080p resolution
6 hours battery life
Integrated speakers
Short throw lens
Not as bright as heavy-duty models
1-year warranty
Epson EpiqVision Mini EF12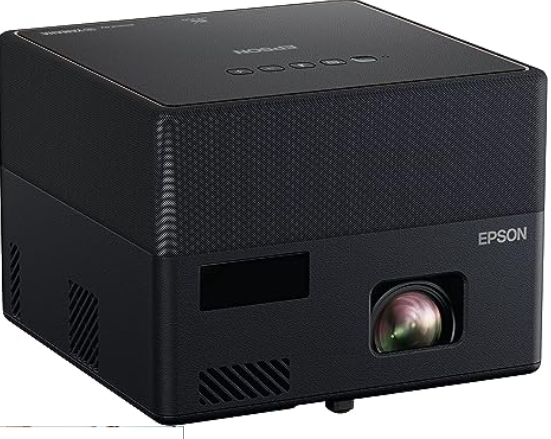 As Epson's most compact laser projector, the EpiqVision Mini EF12 really shines for campsite viewing. It offers 800 lumens brightness, up to 150 inches image size, and built-in Android TV with streaming apps. Weighing under 3 pounds with 3-hour battery life, this is the ultimate streaming projector for camping.
Laser light engine technology
Very bright at 800 lumens
Android TV with apps included
Under 3 pounds
Good audio with Yamaha speakers
Expensive
No carrying case included
Anker Nebula Capsule II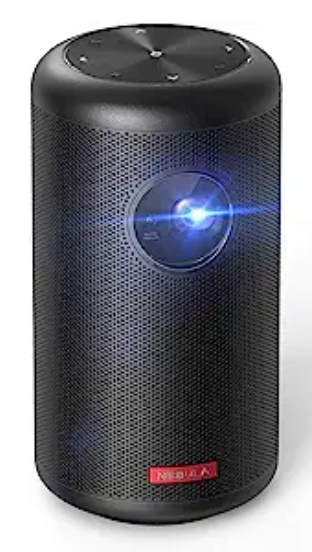 Styled like a soda can, the Nebula Capsule II by Anker is super small yet mighty. It packs 200 lumens, 720p, and integrated Android/speaker into an 8 ounce canister form factor perfect for packing. It can project a 100 inch screen from just 10 feet away. The battery lasts 2.5 hours.
Extremely compact, lightweight
Integrated Android OS
Loud sound from omnidirectional speaker
100 inch image from 10 feet away
Lower lumens than heavier models
Only 720p resolution
AAXA P6X Pico Projector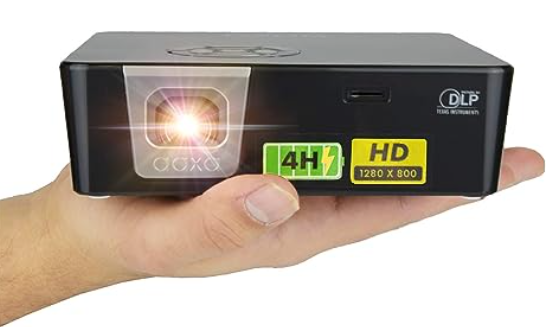 For buyers on a tight budget, the AAXA P6X is the best entry-level pico projector that still offers decent performance. It boasts 600 lumens, 1080p resolution, and 2-3 hours runtime. All for a very affordable price under $200. It's not as compact as other picks but delivers great value.
Inexpensive for the brightness
Good HD 1080p resolution
Up to 150" projection size
Lightweight at 1.5 pounds
Short 1-year warranty
Mediocre built-in speakers
Frequently Asked Questions About Camping Projectors
What features make a good camping/outdoor projector?
Key features to look for in a camping projector include high lumens brightness, lightweight/portable design, built-in battery, short throw lens, built-in media player/streaming, integrated stand, speakers, rugged carry case, and versatile inputs.
How bright does a projector need to be for outdoor use?
For camping sites or backyards, you typically want a projector with at least 200-500 lumens to be visible outdoors. Mini pocket projectors under 200 lumens work best for close-up viewing indoors.
Do all projectors have built-in speakers?
Most portable projectors have 1-2W integrated speakers that provide decent sound quality without external speakers needed. However, some ultra mini models forgo speakers in favor of a smaller design, so check each model's audio specs.
Can you run a projector all night on battery or do you need to plug it in?
Typical battery life for portable projectors is 2-3 hours per charge. However certain models offer up to 6 hours on a single charge, allowing you to potentially play a movie or two before needing to recharge. For constant overnight use, AC power is recommended.
Are campsite projectors safe? Could they start a fire?
Modern portable projectors are very safe to use outdoors. But as a precaution, do not set them directly on flammable surfaces when powered on. And keep the lens side specifically away from tents and other fabrics.
Is there a big difference between 720p vs 1080p resolution for outdoor projection?
For larger projections, 1080p will look sharper and reveal more fine details. However, 720p is still decent resolution for outdoor viewing. Many lower-cost portable models stick with 720p while more premium models offer 1080p. Go with 1080p if you want maximum clarity.
Can you use a campsite projector in the daytime or does it need to be dark?
Camping projectors are designed primarily for nighttime use, as bright ambient light will wash out the projected image. You can use them in daylight for some applications but the picture will appear very dim and hard to see unless it is an extremely bright high-end projector.
Make Your Next Camping Trip More Entertaining
A portable projector opens up endless entertainment possibilities on your next camping adventure, from outdoor movie nights under the stars to projecting videos to just pass the time. Today's LED, laser, and LCD projectors pack impressive brightness, resolution, and sound into compact chassis that easily fit in a bag.
We recommend considering the Anker Nebula Solar or LG PH550 as the best all-around outdoor entertainment models. They offer a winning combo of portability, brightness, easy setup, and built-in streaming features. For buyers on a budget, the AAXA P6X also gets the job done.
Have a wonderful trip and enjoy your new camping projector to the fullest! Let us know if you have any other questions.