Introduction
Golf simulators are becoming increasingly popular for practicing and playing golf indoors. A high-quality projector is essential to get the most out of your golf simulator experience. The projector displays the virtual golf course graphics and gameplay onto a impact screen or blank wall. This allows you to work on your swing technique, accuracy, shot shaping and more, all from the convenience of your own home.
With so many projector options on the market, it can be tricky to determine which model will work best for your golf simulator setup. In this comprehensive guide, we will discuss the key factors to consider when choosing a projector for golf simulators. We have also recommended the top 7 projectors currently available on Amazon based on critical criteria like brightness, resolution, connectivity and value.
Factors to Consider When Choosing a Golf Simulator Projector
Brightness
One of the most important specifications to consider is brightness, expressed in lumens. A brighter projector will be able to produce clear, vivid images even in a well-lit room. For golf simulator use, a minimum brightness of 4000 lumens is recommended for optimal visibility. Brighter projectors in the 6000 to 10,000 lumen range are ideal for exceptionally clear graphics and gameplay.
Resolution
Higher resolution results in sharper, more detailed images. For the large projected screen size required for golf simulators, a 1920 x 1080 (1080p) resolution or better is suggested. This will ensure the virtual golf course graphics, terrain and textures are rendered accurately.
Connectivity
The projector you choose should support HDMI input since this will likely be used to connect to the golf simulator computer or gaming console. Some also offer useful connectivity options like Wi-Fi for wireless streaming and USB ports to display or playback media files.
Projection Technology
DLP projectors are most popular for golf simulators due to their bright images, fast response times and reduced possibility of a "halo" effect. 3LCD projectors also work very well. Projectors using either technology are recommended over older LCD models.
Throw Distance
Throw distance refers to the distance required between the projector and the screen to produce a desired image size. This varies between models so pick one that accommodates the available space in your golf simulator room. Short throw projectors can produce a 100-inch image from just over 5 feet away.
Ease of Use
Look for projectors that are easy to setup, operate and maintain. Auto functions like vertical keystone correction, lens shift and auto source switching make it simpler to get the perfect image alignment. Built-in speakers provide audio without extra equipment.
Warranty
A longer warranty provides valuable peace of mind and protects against early device failures. Most projectors come with a 1 to 3 year manufacturer warranty. Extended warranties can be purchased for additional years of coverage.
Budget
Projector pricing ranges from a few hundred to several thousand dollars. Determine how much you are willing to spend. High-end models provide extremely bright images and advanced features while more budget-friendly options still meet the minimum requirements for golf simulator use.
Taking these criteria into account, we have compiled this list of the top-rated projectors currently available on Amazon that are well-suited for golf simulator setups.
The 7 Best Projectors for Golf Simulators
With a bright 4000 lumen output, 1080p resolution and quick 1.1 second power on/off, the reasonably priced Optoma HD146X is our top overall choice for golf simulator projectors.

The HD146X produces brilliantly colored and well-lit images even in ambient light conditions. It has a generous 1.47 to 1.62 throw ratio supporting 100 inch screen sizes from just 8 feet away. Vertical keystone correction delivers a rectangular picture even if positioned off axis. Built-in 10 watt speaker provides audio playback. It ships with a carrying bag for easy transport. Backed by a 3 year warranty and lamp coverage.
Key Features:
Resolution: 1920 x 1080 (1080p)
Brightness: 4000 lumens
Contrast Ratio: 23,000:1
Lamp Life: 15,000 hours (normal mode)
Connectivity: HDMI x 2, VGA, Audio Out
Light weight 7.5 pound design
Vertical lens shift for flexible positioning
Projection Modes: Front, Rear, Desktop
Noise Level: 30dB normal mode, 26dB eco mode
With its vivid 4000-lumen visuals and golf simulator-friendly setup, the Optoma HD146X offers superb value and performance.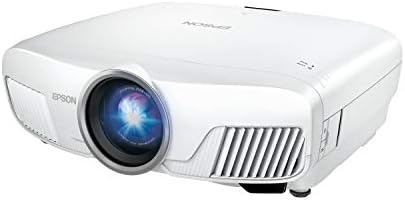 If an exceptionally bright image is your top priority, the Epson Home Cinema 4010 is a fantastic choice with its 4,000 lumen output.

This 3LCD model renders colors with amazing accuracy. It uses Epson's proprietary 3-chip technology to produce true-to-life images. With support for 1 billion colors, images appear vibrant and natural. Details are sharp and text easy to read.
The 4010 has flexible connectivity with dual HDMI ports plus MHL to mirror mobile devices. It can project a 120 inch screen from around 11 feet away. Auto vertical keystone detects angle and corrects image distortion.
Key Features:
Resolution: 1920 x 1080 (1080p)
Brightness: 4,000 lumens
Contrast Ratio: 200,000:1
Lamp Life: 12,000 hours (medium mode)
HDMI x 2, MHL, USB
1.6x zoom lens with lens shift
Vertical/Horizontal keystone correction
Built-in 10W speaker
Quiet 37dB fan noise
Epson's deep experience in projector technology makes this unit reliable and easy to operate. Comes with a 2 year warranty. For phenomenally bright visuals, the 4010 is a top contender.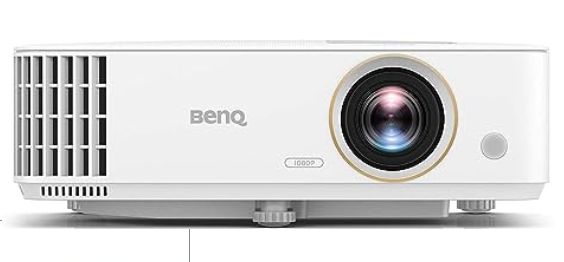 The BenQ TH585 has an extremely short throw distance, needing just over 5 feet to produce a massive 100-inch image. This is perfect for golf simulator setups in compact rooms.
This single-chip DLP projector outputs vivid colors and excellent image quality courtesy of BenQ's Colorific technology. Details look sharp whether you are targeting a pin or reading greens.

For gaming and sports, BenQ's Game Mode reduces input lag while Motion Estimation/Compensation enhances fast movement. Connections include HDMI, and audio in/out.
Key Features:
Resolution: 1920 x 1080 (1080p)
Brightness: 3,300 lumens
Lamp Life: 15,000 hours (normal mode)
Lens Shift: Vertical
Projection Modes: Front, Rear, Desktop
Built-in 10W speaker
Low fan noise at 30dB
With its short throw lens and 100 inch screen capability, the TH585 is purpose built for golf simulator rooms with limited space. Its smart design includes carrying handles and openings for cable routing. Covered by BenQ's 5 year warranty.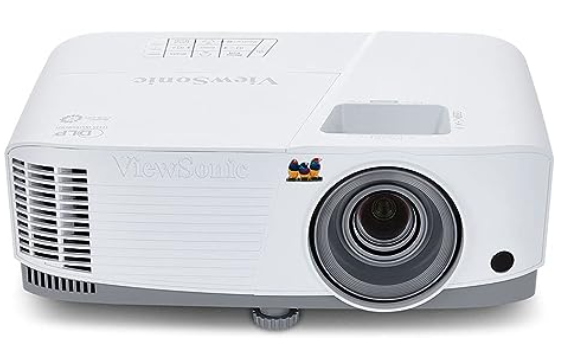 Weighing just 5.5 pounds, the ViewSonic PA503S is an incredibly portable projector perfect for use in different golf simulator locations.

This high definition LED projector delivers stunning visuals whether set up indoors or outdoors. It has an optimized short throw lens for projecting large screen sizes from close distances. Images look uniformly bright with SuperColor tech.
Integrated Bluetooth allows easy audio streaming from mobile devices. Use the USB port to project videos, photos and documents without a PC. Weighing just over 5 pounds with an included carrying case, the PA503S brings premium projection anywhere you want to practice your swing.
Key Features:
Resolution: 1920 x 1080 (1080p)
Brightness: 3,600 lumens
Lamp Life: 20,000 hours (SuperEco mode)
Carrying bag included
Built-in battery lasts up to 30,000 hours
Harman Kardon speaker
Vertical keystone correction
USB media player and screen mirroring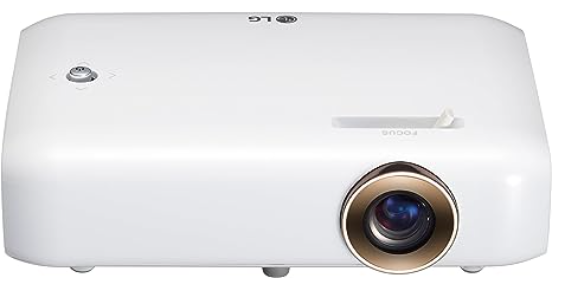 Take your golf simulator experience on the go with the LG CineBeam PH550 and its built-in battery for cordless operation.
This compact LED projector streams content wirelessly and can run unplugged for over 2 hours on a charge. Images look sharp and colorful on screen sizes up to 100 inches. Use the handy tripod mount to easily adjust projection angle.
LG's user-friendly webOS interface offers popular streaming apps. Bluetooth audio, USB and HDMI connectivity offer flexible media options. Weighing just 2.2 pounds, the PH550 turns any wall into an instant golf simulator screen.
Key Features:
Resolution: 1920 x 1080 (1080p)
Brightness: 550 lumens
Built-in battery lasts up to 2.5 hours
Wireless screen mirroring
Portable 2.2 pound design
Includes tripod
Auto vertical keystone
LG webOS smart TV platform
Conclusion
Choosing the right projector is key to building an immersive, realistic golf simulator. After considering critical factors like brightness, resolution, throw distance and connectivity, we recommend the Optoma HD146X as the best overall projector for most golf simulator setups based on its exceptional quality and value.
Projectors like the Epson Home Cinema 4010 provide superior brightness over 4000 lumens. For compact simulator rooms, the BenQ TH585 works well with its ultra short throw distance. Portable models such as the ViewSonic PA503S allow flexible placement anywhere. And for the ultimate 4K experience, the WO Z700 delivers unrivaled visual clarity.
By selecting a projector suited for golf simulation use from trusted brands, you can enjoy practicing your swing or playing virtual rounds anytime. Investing in a high quality projector will help you get the most out of your golf simulator for years to come.