It's possible to get a lot of projection power these days without spending a lot of money. New budget projectors under $500 offer full HD resolution, portability, and solid brightness. Read on for reviews of the best high-performance projectors under $500.
Factors to Look for in Projectors Under $500
Choosing a sub-$500 projector doesn't have to mean sacrificing quality. With careful selection, you can still enjoy impressive performance. Here are certain things to consider in mind when making your choice:
Resolution – Prioritize 1080p models for the sharpest image quality and clarity. 720p is acceptable for smaller screens.
Brightness – 200 to 400 ANSI lumen brightness gives you vivid images in darker rooms. Go higher if you need to use the projector in ambient light.
Contrast – Aim for contrast ratios of 10,000:1 or higher for good color and black levels.
Connectivity – At least 1 HDMI input is essential. Multiple inputs provide more flexibility connecting media players, gaming consoles, laptops, and more.
Audio – Some projectors have built-in speakers. But external speakers may be required for the best sound quality.
Portability – Compact projectors around 3 pounds or less make positioning and traveling easy.
Warranty – 1-2 years of coverage is preferable for defects and repairs.
Accessories – Few budget models have lens shift, zoom, or focus. You may need to carefully position them.
Top-Rated Projectors Under $500
Based on performance, image quality, portability, and overall value, here are the top projectors under $500:
LG PH30N Portable Cinebeam Projector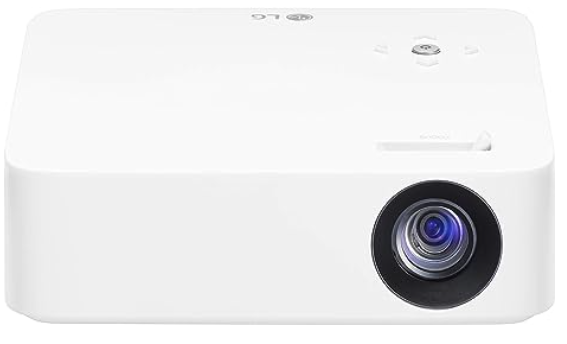 Experience cinematic brilliance with the LG Electronics PH30N Portable CineBeam Projector. Elevate your entertainment with its HD resolution (1280 x 720) that brings your favorite content to life. With up to 100 inches of screen size, this projector turns any space into a mini theater, projecting a 40-inch screen from just 4.4 feet away, or a spectacular 100-inch screen at a distance of 10.9 feet. The projector boasts an impressive 250 ANSI lumens, ensuring vibrant and clear visuals even in well-lit environments.

720p HD resolution
280 ANSI lumens brightness
Weighs just 1.8 lbs for portability
Built-in battery for up to 2.5 hours
Wireless screen mirroring capabilities
Very lightweight and portable
Operates wirelessly off battery power
Affordable price under $400
Lower 720p resolution
Mediocre battery life while projecting
Epson VS250 SVGA Projector
Elevate your presentations with the Epson VS250 SVGA 3LCD Projector, designed to deliver stunning visuals even in well-lit rooms. With an impressive color brightness of 3,200 lumens and an equal white brightness, your content will shine vividly, ensuring clarity and impact. This projector offers versatility and ease of use for both personal and professional settings.
Native SVGA 800 x 600 resolution
Color brightness rated at 3,200 lumens
1,000:1 contrast ratio
Low-cost replacement lamps
Lightweight at 5.3 pounds
Very bright for small rooms
Sharper images than comparably priced models
High reliability and proven optics
Lacks full HD 1080p resolution
No zoom, lens shift, or focus capabilities
Anker Nebula Capsule II Smart Mini Projector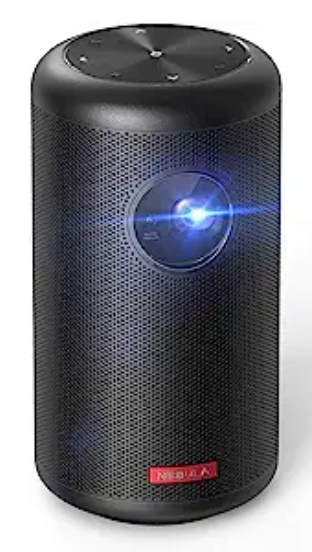 Turn any space into a captivating home theater with the Anker NEBULA Capsule II Smart Portable Projector. Boasting 200 ANSI Lumen brightness and 720p HD resolution, this mini projector delivers stunning visuals that immerse you in your favorite movies, games, and online classes. The vibrant and clear 100-inch image brings your entertainment to life, even in low-light environments.

720p native resolution
200 ANSI lumen brightness
Android TV built-in with apps and Chromecast
360° omnidirectional speaker
Only 1.6 pounds for portability
Integrated streaming in a mini projector
Impressive sound from the built-in speaker
Easily portable and moves from room to room
Lower resolution than competitors
Not ideal for daylight viewing
Kodak Luma 150 Portable Projector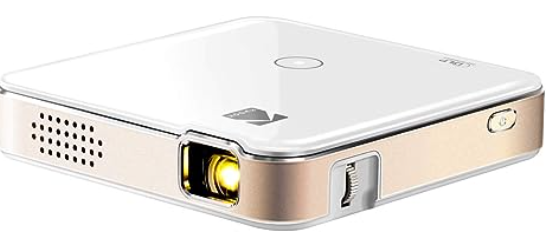 Experience incredible home entertainment with the KODAK Luma 150 Ultra Mini Pocket Pico Projector. This versatile projector transforms any wall into a captivating screen, producing bright and vivid video and images of up to 150 inches. Whether you're watching movies, sharing pictures, or giving presentations, this pocket-sized powerhouse brings your content to life.
Native 854 x 480 resolution
150 lumens brightness
Project from up to 10 feet away
Integrated battery and speakers
Under 3 pounds for portability
Battery powered for cordless use
Easy plug and play setup
Low cost under $200
Very underpowered specs
Low native resolution
ViewSonic M1+ Portable LED Projector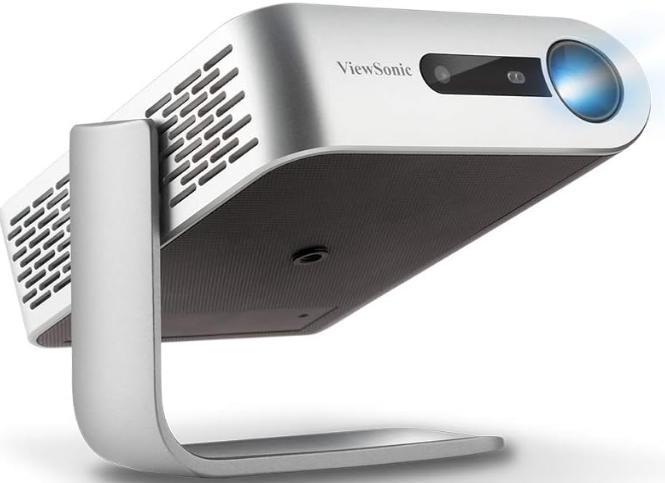 Elevate your entertainment experience with the ViewSonic M1+ Portable LED Projector. This innovative projector combines advanced technology and sleek design to deliver an exceptional viewing experience. With its ultra-portable WVGA (854x480p) resolution and shorter throw lens, setting up your cinematic journey is a breeze. Thanks to features like auto-focus, vertical keystone correction, and 360-degree projection, you can have a captivating display in seconds.

1280 x 720p resolution
250 LED lumens
Built-in dual Harman Kardon speakers
Short throw projects 100" image from 8 feet away
Weighs 1.5 pounds with battery
Impressive sound quality
Short throw lens projects big image in tight spaces
Highly portable form factor
Lower resolution than competitors
Mediocre brightness
Positioning Tips
For the sharpest image, position the projector 7-10 feet from the wall or projection screen.
Set the projector on a flat, stable surface at a right angle to the wall.
Minimize ambient light by using blackout window shades or projecting at night.
Use projector settings like digital keystone to square the projected image.
Connect devices like media streamers via HDMI for hi-def video.
FAQs About Budget-Friendly Projectors
Can you connect external speakers?
Yes, most projectors under $500 have an audio output port to connect powered external speakers.
Do cheap projectors work well outdoors?
For outdoor use, you need a high lumen projector designed specifically to cut through ambient light. Most budget models will not work well outside.
What accessories do you need?
At minimum, an HDMI cable to connect your video source. A projector screen can maximize image quality but is not essential.
Do budget projectors have lens shift or zoom capabilities?
Sadly, no. You will have to carefully position the projector and use digital keystone correction for alignment.
Can you project video over WiFi with these projectors?
Some models support wireless mirroring from mobile devices. Otherwise you can connect media streamers wirelessly via HDMI.
How do you focus a cheap projector?
There is no manual focus. Adjust the projection distance and use digital focus controls to sharpen clarity.
The Big Picture on Budget Models
You'd be surprised at the projection capabilities of new sub-$500 projectors. While you'll have to accept some compromises, they can provide over 100 inches of immersive video in darker home theaters. Just position them correctly and provide hi-def media. For the price, you can enjoy surprisingly cinematic visuals.