It's possible to get an excellent home theater or office projector without spending a fortune. Newer budget models offer good brightness, resolution, and features at accessible prices under $1000. This guide covers what to look for and reviews the best projectors under $1000 for media, gaming, and presentations.
What to Consider in Projectors Under $1000
With the right picks, budget projectors can meet many projected display needs. When selecting models under $1000, keep these factors in mind:
Resolution – Look for native 1080p for clarity. 720p is acceptable for smaller screen sizes.
Brightness – 2,000 to 4,000 lumens provides enough light for both dark and ambient light rooms.
Contrast Ratio – 10,000:1 or higher results in good contrast and vivid images.
Inputs – Need at least 1 HDMI input. Multiple ports allow connecting media players, cable boxes, gaming consoles, and laptops.
Speakers – Some projectors have built-in speakers. Others may require external speakers for sound.
Portability – Compact lightweight models under 5 pounds are easy to move and position.
Warranty – 1-3 years of protection is preferable to cover potential repairs.
Accessories – Many budget models lack lenses for positioning and alignment.
Top-Rated Projectors Under $1000
Based on performance, value, and reliability, here are the best projectors under $1000:
BenQ TK700STi Gaming Projector
Experience the pinnacle of gaming and entertainment with the BenQ TK700STi 4K HDR Gaming Projector. Immerse yourself in stunning 4K visuals at a smooth 60Hz refresh rate, all with impressively low 4.16ms latency that keeps you in the heart of the action. Designed to elevate your gaming experience, this projector boasts 3000 lumens of brightness, ensuring vibrant and detailed images even in well-lit rooms.

1080p native resolution
Bright 3000 lumen image
Low input lag ideal for gaming
Near instant power on/off
Integrated Android TV and speakers
Excellent brightness in this price range
Very low lag for fast action gaming
Built-in streaming apps
Lacks lens shift capabilities
Rainbow effect in fast-motion scenes
LG PF50KA Portable LED Projector
Elevate your home theater experience with the LG PF50KA Portable Full HD LED Smart TV CineBeam Projector. Immerse yourself in stunning Full HD visuals with a resolution of 1920 x 1080, projected onto a screen of up to 100 inches. Whether you're enjoying movies, gaming, or presentations, the PF50KA delivers impressive clarity and detail that will captivate your senses.

1080p native resolution
550 lumens brightness
Compact and lightweight at only 1.8 pounds
Wireless connectivity and battery operation
Auto vertical keystone adjustment
Very affordable price under $500
Easy wireless media sharing and streaming
Battery operation for cordless use
Not ideal for rooms with much ambient light
Limited connectivity with 1 HDMI port
Anker Nebula Solar Portable Projector
Elevate your entertainment experience with the NEBULA by Anker Solar Portable 1080p Projector. Immerse yourself in cinematic visuals with up to 120 inches of stunning 1080p resolution. With HDR10 and 400 ANSI lumens, every scene comes to life with rich detail and vibrant colors. (Recommended for dimmer environments to enhance visual quality.)

Native 1080p resolution
400 ANSI lumen brightness
Integrated Dolby Digital Plus speakers
Android TV 9.0 with apps
Battery-powered with up to 3 hours of use
Fully integrated streaming platform
Solid sound from 10W speakers
Portable and battery-powered
Not very bright compared to rivals
Mediocre battery life while projecting
ViewSonic M2e Portable Smart Projector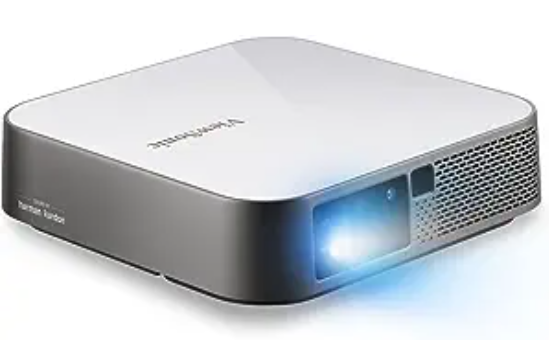 Experience entertainment like never before with the ViewSonic M2e 1080p Portable Projector. This ultra-portable projector combines stunning Full HD 1080p visuals with impressive features that enhance your viewing experience.

Experience audio excellence with the built-in dual Harman Kardon Bluetooth speakers. While they deliver audio-only content, they provide room-filling sound that complements your visual experience perfectly
SVGA native resolution (800 x 600)
250 lumens LED brightness
Built-in battery for up to 6 hours use
Integrated Harman Kardon Bluetooth speakers
Lightweight at 1.5 pounds
Highly affordable under $300
Great portability and battery life
Impressive sound for the size
Lower SVGA resolution
Not ideal for larger projections
Epson Home Cinema 880 3LCD Projector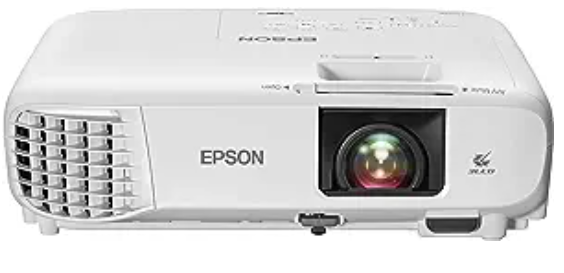 Experience the pinnacle of home entertainment with the Epson Home Cinema 880 3LCD 1080p Projector. Designed to deliver stunning picture quality, this projector brings your favorite movies, sports, and games to life with impressive clarity and detail.

The Home Cinema 880 provides outstanding 1080p images that are optimized for fast-action sports and gaming. With ultra-bright images at 3,300 lumens of color and white brightness, you'll enjoy exceptional visuals in various lighting conditions.

1080p output resolution
2,000 lumens of color and white brightness
1,000,000:1 contrast ratio
Lens shift and 1.6x zoom
Lamp life up to 8,000 hours
Sharp image quality with 3LCD technology
Great brightness for both dark and light rooms
Long-lasting lamp life
Lacks streaming or smart TV capabilities
No built-in speaker
Positioning Tips for Projectors Under $1000
Measure your room size and screen area to pick an appropriate brightness projector.
Position the projector on a flat, stable surface 7-20 feet from the wall or screen.
Angle the projector perpendicular to the screen using table mounts or inverted ceiling mounts.
Use manual or automatic keystone correction to square the projected image.
Minimize ambient light for daytime use by using blackout curtains.
FAQs About Budget-Friendly Projectors
Can you connect a cable box or antenna to these projectors?
Many projectors work with HDMI splitters to share a cable/antenna connection between multiple devices.
Do budget projectors work well in daylight?
The performance will suffer in bright ambient light. Try to control light by closing shades and optimizing the room layout.
What throw ratio do affordable home theater projectors have?
Often between 1.2 to 2.0 meaning they can project 1.2 to 2 feet for every foot of distance from the screen.
Can you mount a projector under $1000 upside down?
Yes, most can be inverted on universal ceiling projector mounts to project down onto the screen or wall below.
How do you focus on the projected image?
Use the focus ring on the projector lens. Position the projector closer or farther from the wall to enlarge and sharpen focus.
What cables will I need with my projector?
At a minimum, an HDMI cable to connect your video source. Many projectors also include audio output to use with external speakers.
Enjoy Big Screen Entertainment on a Budget
Home theater and portable projectors under $1000 have come a long way in terms of brightness, resolution, and features. Models from BenQ, LG, Epson, ViewSonic, and Anker deliver solid performance at accessible prices. Evaluate your needs to pick the ideal affordable projector, and transform any wall into a theater screen.