Choosing the right projector is key to creating an immersive worship experience. This guide will cover what to look for in a dedicated church projector and provide reviews of highly rated models perfect for sanctuaries and worship centers.
Factors to Consider in Church Projectors
Houses of worship have unique needs when it comes to multimedia projection. Here are the most important features to evaluate:
Brightness – Look for 4,000+ lumens to overcome ambient light from windows and cut through dark sanctuaries.
Resolution – 1080p is ideal for clarity with text and videos. Anything lower will look pixelated on large screens.
Throw Distance – Pick long throw projectors that can project 100-300 inch screens from over 20 feet away.
Inputs – Look for multiple HDMI, VGA, USB and HDBaseT ports to connect various devices.
Lens Shift – Simplifies positioning with horizontal and vertical image adjustments without distortion.
Networking – Models with networking allow centralized AV control and wireless multimedia sharing.
Warranty – 3+ years of warranty coverage provides peace of mind for a critical system.
Zoom Capabilities – Zoom lenses allow flexibility with screen sizes and throw distances.
Audio – Integrated speakers provide sound, but external speakers are recommended for full frequency worship audio.
Best Projectors for Church Sanctuaries
Based on the needs of houses of worship, these are top recommendations:
Epson Pro EX10000
Enhance your worship experience with the Epson Pro EX10000 Church Projector. Designed for medium-sized churches, this projector delivers a stunning image size of 100 inches from just 11 feet away. Its powerful 4000 lumens lamp ensures vivid and bright visuals, even in well-lit environments. The RGB three-chip three LCD technology eliminates the rainbow effect, providing you with natural and lifelike picture quality.
Immersive Worship: Enjoy a 100-inch image from just 11 feet away, perfect for medium-sized churches.
Vivid Visuals: 4000 lumens lamp ensures bright and clear images, even in well-lit church auditoriums.
Natural Picture Quality: RGB three-chip three LCD technology eliminates the rainbow effect, providing lifelike visuals.
Seamless Integration: 16:9 aspect ratio matches widescreen displays for an engaging experience.
Clear Audio: Built-in 16W speaker for smaller gatherings; external speaker recommended for larger audiences.
Effortless Viewing: Picture skew sensor and automatic keystone adjustment for optimized image quality.
Projector By BenQ MH733
Elevate your church gatherings with the BenQ MH733 1080P Business Projector. Designed to excel even in ambient lighting, this projector delivers outstanding brightness and image quality, making it ideal for churches with varying light conditions. With wireless projection, keystone adjustment, and an anti-dust sensor, the MH733 is a versatile choice for enhancing your worship experience.
4000-lumen power capable of producing brighter videos even in ambient lighting conditions.
Eco mode increases the lamp life.
Auto-detection as soon as the HDMI is connected to the projector.
The anti-dust feature helps to reduce the dust getting collected inside the unit
BenQ TH671ST – Short Throw Projector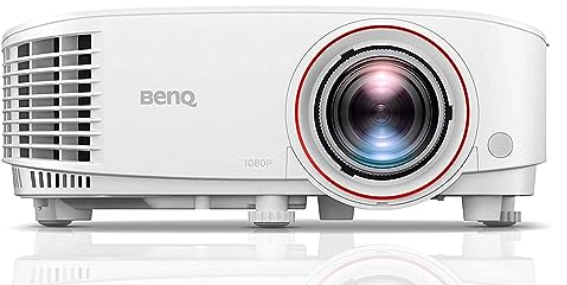 Experience the epitome of immersive cinematic and gaming excitement with the BenQ TH671ST 1080p Short Throw Gaming Projector. Boasting native Full HD 1080p resolution, this projector offers an unrivaled picture quality with 92% Rec. 709 color accuracy, 3000 lumens of brightness, and a high native contrast ratio. Dive into your favorite games and movies with stunning visual clarity and detail.

1080p HD resolution
3,600 lumens brightness
Projects 100" image from just over 5 feet away
20,000:1 contrast ratio
Vertical lens shift capability
ViewSonic PA503X – 5,000 Lumen Laser Projector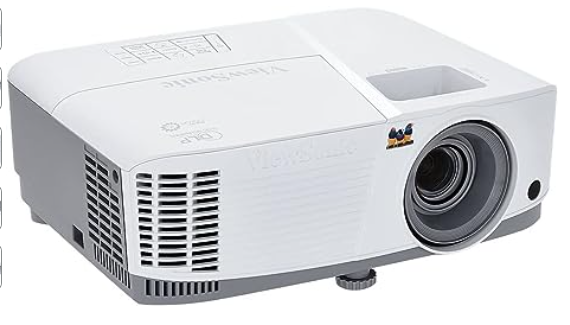 Elevate your presentations with the ViewSonic PA503X DLP Projector. With Texas Instruments DLP technology, this projector delivers a bright and dependable picture, perfect for business and educational environments. Its XGA 1024 x 768 resolution ensures crisp and detailed presentations, making it ideal for text-heavy content. The manual focus lens allows for high-quality image projection and accommodates various screen sizes, from 4′ to 43′ projection distance. Whether it's classrooms or meeting rooms, this projector brings sharp colors and images to captivate your audience. The SuperColor technology, featuring a six-segment color wheel, ensures accurate and vibrant colors.
1080p native resolution
5,000 lumens brightness
1.6x optical zoom lens
Integrated 10w speaker
20,000 hours maintenance-free laser light source
LG HU715QW – Ultra Short Throw 4K Laser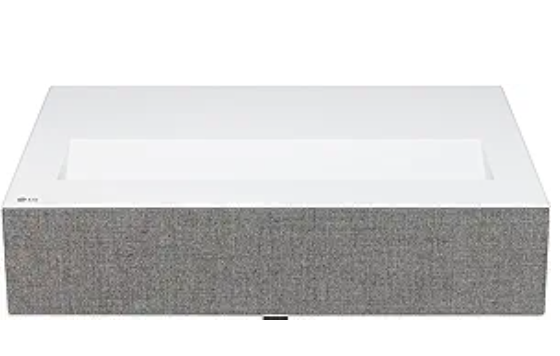 This projector is not just for your home; it's also ideal for church gatherings. Create a powerful and engaging worship experience by projecting content with stunning clarity and vibrant colors. Whether you're displaying scriptures, sermons, multimedia presentations, or religious movies, the LG CineBeam UHD 4K Projector HU715QW will make your church sessions more impactful and memorable.
Cinematic 4K UHD image
2,500 lumens brightness
Lens shift and digital keystone
WebOS smart platform built-in
Wireless screen mirroring capabilities
For sanctuaries both big and small, these projectors provide the power, flexibility, and reliability to bring worship services to life.
Positioning and Installation Considerations
Carefully measure throw distance from potential projector locations to the screen.
Ideally, install projectors on secure mounts 20-40 feet back centered to the screen.
Utilize lens shift capabilities to fine-tune positioning without distortion.
Hide cables in wire tracks or conduits for a clean installation.
For sound, install external speakers directed at the audience, not the screen.
Control light from windows using blackout shades to optimize image clarity.
FAQs About Church Projectors
Do projectors work well in daylight from stained glass windows?
Models rated over 5,000 lumens can overcome moderate ambient light. Limit direct sunlight for best results.
What throw ratios are ideal for worship centers?
Look for throw ratios between 1.5-3.0 meaning they can project 1.5 to 3 feet for every foot of distance.
Can you network projectors for centralized control?
Yes, commercial projectors often include networking to control them remotely over LAN or WiFi connections.
How do you project song lyrics or scripture?
Connect a computer to your projector via HDMI to display presentation slides, videos, and images including lyrics.
Can you use ultra short throw projectors in churches?
Yes, but UST projectors need to be very close to the screen which could be distracting. Long throw is preferred.
Do projectors require special electrical circuits or cooling?
Most models can run on a standard 15 to 20 amp outlet. Some may need more ceiling clearance for ventilation.
How often do lamps or bulbs need replacement?
Projector lamps last between 2,000 to 20,000 hours on average. Usage and environmental factors impact lifespan.
The Big Picture on Church Projectors
The right projector enables engaging, distraction-free worship experiences. Work with AV installers to choose professional-grade models optimized for sanctuaries and control light sources. With ample brightness, resolution, networking capabilities, and lens flexibility, modern church projectors deliver stunning visual support complementing spiritual services.