Long-throw projectors can beam massive, cinema-sized images from extended distances, making them ideal for dedicated home theaters. If you have ample space and want truly epic projection, these long-throw models deliver. This guide covers the key factors in choosing a long-throw projector and reviews the top options for jaw-dropping immersive entertainment.
What is a Long-Throw Projector?
Long-throw projectors are designed to project large screen sizes from distances over 15 feet away. Using specialized lenses and high brightness, long throw models minimize distortion and light drop-off at extreme distances compared to conventional projectors.
Benefits of long throw projectors:
Project up to 300-inch screens from 20+ feet away
Enable big-screen projection even in expansive spaces
Minimal shadows from presenters or objects in the room
Position the projector far away from the audience
Specialized lenses minimize image distortion
With the ability to create movie theater-sized images that fill your peripheral vision, long-throw projectors take home entertainment to the next level. They allow truly immersive visuals.
Factors to Consider in Long Throw-Projectors
When selecting a long-throw projector, keep these key factors in mind:
Throw Distance – Long-throw models can project 100-inch plus images from 15 feet away or more. Pick based on your room size.
Resolution – Look for native 1080p, 4K, or higher for clarity with large projections.
Brightness – 7,000+ lumens is recommended for vivid images in rooms with some ambient light.
Contrast Ratio – Aim for 20,000:1 or higher for deep blacks and dynamic range.
Inputs – Multiple HDMI, USB, and wireless connectivity allows connecting media players, gaming consoles, and more.
Lamp Life – Bulb/lamp replacement is costly, so models with 10,000+ hour lifespans are ideal.
Lens Shift – Simplifies positioning and alignment without skewing the image.
Warranty – 3 years is preferable to cover any potential repairs.
The Best Long-Throw Projectors: Reviews
Based on the above criteria, these top-rated long throw projectors stand out:
1. Optoma ZH8608K Long-throw projector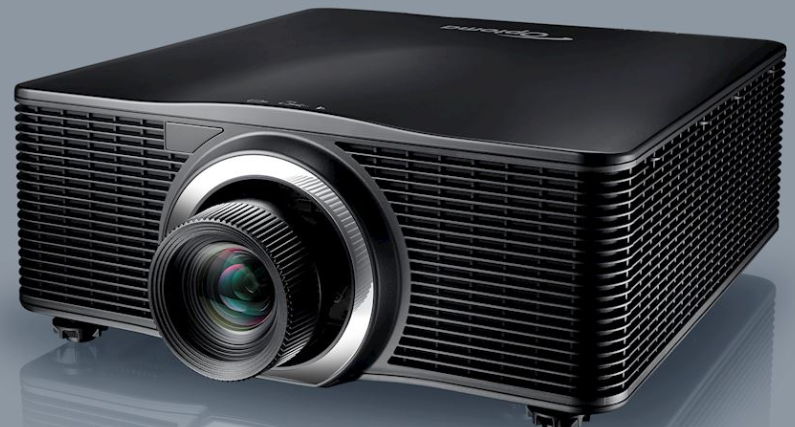 Elevate your visual experience with the Optoma ZH8608K Long-Throw Projector. This powerful projector, designed for complex installations, boasts an impressive 8,500 lumens of brightness and a native WUXGA resolution. Its DuraCore laser light source, certified with an IP5X optical engine, guarantees up to 30,000 hours of maintenance-free usage in Eco mode. The projector's integrated features, including image warping, blending, four-corner adjustment, and lens position memory, simplify even the most intricate setups.
Native 4K UHD resolution
8,000 lumens super bright image
1,200,000:1 contrast ratio
Lens shift, zoom, and horizontal keystone
HDR and HLG high dynamic range support
25,000-hour bulb life
2. BenQ HT2550 Long-Throw Projector
Experience the ultimate in-home theater entertainment with the BenQ HT2550 4K UHD HDR Home Theater Projector. Boasting true 4K UHD resolution with a remarkable 8.3 million distinct pixels, this projector delivers awe-inspiring image quality that's replete with stunning clarity and crisply defined details. Elevate your cinematic experience with projector-optimized HDR10 support, enhanced by BenQ's exclusive Auto HDR color rendition and cinema-optimized technology, bringing your movies to life with unparalleled realism
1080p resolution with 4K HDR compatibility
3,000 ANSI lumens brightness
20,000:1 contrast for deep blacks
Lens shift and 1.3x zoom
100% Rec. 709 color accuracy
20,000 hour lamp life
3. Epson Home Cinema 4010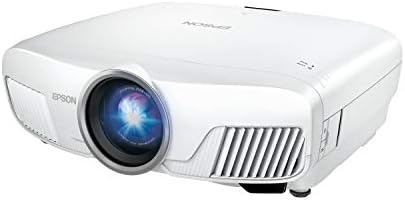 Elevate your home entertainment experience to a whole new level with the Epson Home Cinema 4010 4K PRO-UHD 3-Chip Projector. Featuring an advanced 3LCD technology, this projector achieves a true 3 chip projector design that showcases 100% of the RGB color signal for every frame. Enjoy outstanding color gamut and brightness without any "rainbowing" or "color brightness" issues commonly found in other projection technologies.
1080p output with 4K enhancement
Color and white brightness rated at 3,600 lumens
1,200,000:1 contrast ratio
Lens shift up to 96% vertical and 47% horizontal
Auto vertical keystone correction
10,000 hours lamp life
4. Optoma HZ40HDR Compact Long Throw Laser Home Theater
Introducing the Optoma HZ40HDR Compact Long Throw Laser Home Theater and Gaming Projector, your gateway to immersive entertainment and gaming experiences. This projector is engineered to deliver exceptional visual quality, making it the ideal addition to your home theater or gaming setup.

Immersive Visual Experience: Elevate your entertainment and gaming with the Optoma HZ40HDR Compact Long Throw Laser Projector.
Dependable Laser Technology: DuraCore laser light technology ensures up to 30,000 hours of maintenance-free operation, eliminating lamp and filter replacements.
Durable Design: IPX6 dust resistance rating ensures the durability of the optical engine, guaranteeing long-lasting performance.
Extended Projection Range: Project images up to 120 inches from a distance of just 13 feet and 10 inches.
1080p HD Clarity: Enjoy sharp and detailed 1080p high-definition content without any compromise in quality.
Enhanced Game Mode: Lightning-fast response times with input lag as low as 4ms @ 1080p240Hz, ensuring a seamless gaming experience.
4K HDR Input: Support for 4K HDR input delivers cinematic colors, bright whites, deep blacks, and stunning visual contrast.
For media rooms, dedicated home theaters, conference rooms, or lecture halls, these projectors provide the power, brightness, resolution, and longevity ideal for truly massive projection.
Positioning Tips for Long-Throw Projectors
Calculate the ideal throw distance range and projection size using an online calculator.
Position the projector on a sturdy, level surface or securely mounted upside down from ceilings.
Use the lens shift, zoom and angle adjustments to fine tune the projected image.
Keep the projection area free of obstructions to avoid shadows on the image.
For gaming and movies, position seating at least 1.5x the image width for full immersion.
Utilize long HDMI cables or wireless screen mirroring to connect source devices.
FAQs About Long-Throw Projectors
How far away can you position a long-throw projector?
Anywhere from 15 feet up to 40+ feet away depending on the model. Calculate the ideal distance based on screen size.
Can you project onto colored walls?
White or light-colored walls work best. Dark and heavily textured surfaces interfere with projection quality.
What throw ratios do long throw projectors have?
Commonly between 1.5-3.0:1 – meaning they can project 1.5 to 3 feet for every foot of distance.
Do all long-throw projectors have lens shifts?
Many feature vertical and horizontal lenses shift up to 15% for adjusting the image position. Lens shift provides greater placement flexibility.
Can you connect multiple input sources?
Yes, most long-throw models offer HDMI, VGA, USB, and other ports to connect media players, gaming consoles, cable boxes and more.
How often do you need to replace projector bulbs/lamps?
Projector lamps last 10,000-25,000 hours on average. They are costly, so models with higher lifespans save on replacement expenses.
Can long-throw projectors be used outdoors?
For outdoor use, you need a specialized outdoor/ambient light-rejecting projector designed to overcome sunlight interference.
Enhance Any Room with Expansive Projection
Long throw projectors enable you to transform any space into a theater with projection measured in feet, not inches. Models from Optoma, BenQ, Epson and others provide the power, lens quality, and longevity needed for immersive big-screen experiences. Evaluate your room size, desired image dimensions, and features to pick the perfect long-throw projector. Then sink back and enjoy jaw-dropping cinema projection at home.