Want to stream movies and shows from your phone on a big screen anywhere? Thanks to portable projectors, you can easily turn any wall into an instant viewing surface. But with so many smartphone projector models available, how do you choose?
This buyer's guide will cover the key features to look for when shopping for the best portable projectors to pair with your iOS or Android smartphone in 2023. We'll provide detailed reviews of 5 top-rated models across different price points while comparing critical specifications like brightness, resolution, and connectivity. Let's explore how portable projectors can provide big-screen entertainment using just your phone!
Why Buy a Projector for Your Smartphone?
Smartphone projectors offer many advantages over simply watching content directly on your phone:
Large Display – Project a massive 80-200 inch screen vs a 6-inch phone screen.
Portability – Easily fits in a bag to use anywhere indoors or outdoors.
Sharing – Allows groups to watch instead of crowding around your phone.
Versatility – Also great for work presentations, photo slideshows, YouTube videos, and more.
Battery Powered – Built-in batteries let you project anywhere without outlets.
For media viewing on the go, portable smartphone projectors provide flexibility beyond built-in phone screens. Read on to see key factors to consider when purchasing one.
Buying Guide: How to Choose a Smartphone Projector
With smartphone projectors varying greatly in image quality, brightness, connectivity, and price, here are the key specifications to focus on:
Resolution
Look for at least 720p (1280×720) resolution. 1080p (1920×1080) provides even sharper images from your phone's HD content.
Brightness
Projector brightness is measured in ANSI lumens. For daytime outdoor use, look for at least 300+ lumens. At night, 200+ lumens is sufficient.
Contrast Ratio
Higher contrast ratios like 10,000:1+ give images more vivid colors and deeper blacks.
Battery Life
Built-in batteries allow cable-free projection. Aim for at least 2 hours of battery life for movie viewing off the grid.
Connectivity
Ensure the projector offers wireless connectivity or ports compatible with your smartphone's OS.
These factors determine image quality and usability. Keep them in mind as we cover the top-rated smartphone projectors to consider in 2023.
The 5 Best Smartphone Projectors in 2023
1. Anker Nebula Capsule II Smart Mini Projector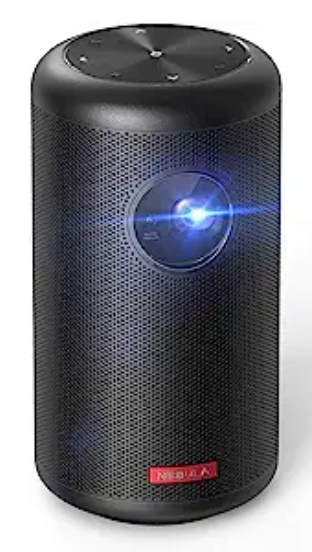 The Anker Nebula Capsule II's soda can-sized body boasts big projection capabilities. With 200 ANSI lumen brightness and 720p resolution, it can display a 100 inch screen viewable in low-light environments. The integrated 8W speaker delivers bold sound, while the Android-based OS enables streaming without wires.
Resolution: 720p
Brightness: 200 lumens
Contrast: Not Specified
Battery Life: 2.5 hours
Key Features:
Ultra-compact 5.9 x 2.9-inch design
Runs Android TV for apps and streaming
Wireless screen mirroring from iOS or Android
Built-in speaker with deep bass
2.5 hours of video playback per charge
2. LG PF50KA Portable Full HD LED Projector
LG's ultra compact PF50KA smartphone projector outputs a 1920 x 1080 resolution rivaling more expensive models. 550 LED lumens allows projection in dim ambient lighting. Wireless screen mirroring works with Android and iOS devices so you can easily stream phone content.
Resolution: 1080p
Brightness: 550 lumens
Contrast: 100,000:1
Battery Life: 2.5 hours
Key Features:
Projects up to 120 inches in 1080p
550 lumens allow use in low lighting
Wireless screen mirroring from phones
2.5 hours of projection per charge
1.3x optical zoom
Sleek modern low profile design
3. AAXA P6X Pico Projector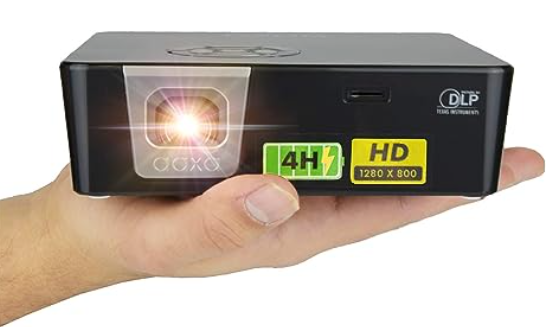 One of the most affordable true 1080p models available, this projector offers 500 lumens to view up to 150 inch screens with just a 6 second boot up time.
4. Vitco Foco F1 Smart Pico Projector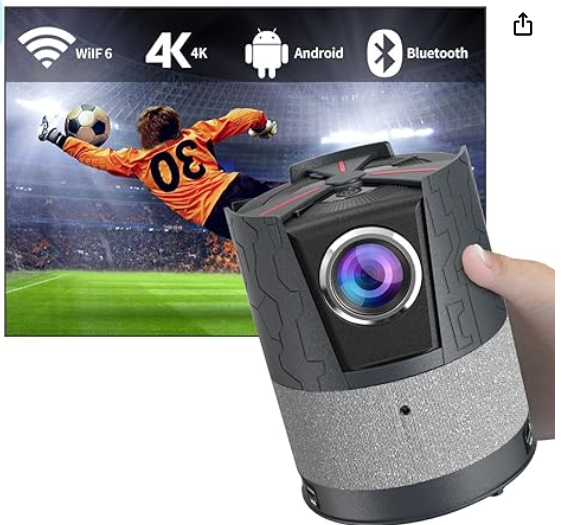 Vitco's compact Foco F1 projector weighs under 8 ounces for ultimate portability while providing wireless mirroring from iOS and Android phones. Its 250 lumens match an impressive 800:1 contrast ratio recreating vivid detail. An integrated rechargeable battery enables up to 3 hours of projection per charge.
Resolution: 854×480 (native), supports 1080p (input)
Brightness: 250 lumens
Contrast: 800:1
Battery Life: 3 hours
Key Features:
Extremely portable 7.7 ounce design
Projects 40-120 inch screen size
Built-in rechargeable battery for 3 hrs use
Wireless casting from iOS and Android
Integrated camera tripod mount
Includes remote, tripod, and cables
5. Kodak Luma 150 Pocket Projector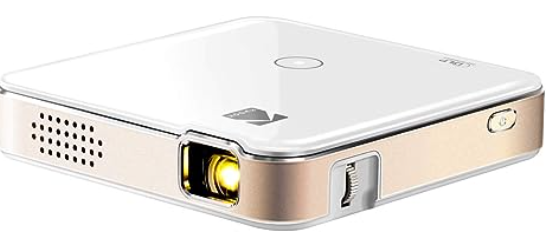 Kodak's ultra-slim 2 x 5.2 x 0.5 inch Luma 150 projector conveniently fits in a pocket while projecting smartphone content at 150 lumens – enough for darker viewing environments. An HDMI input makes connections simple. Its sleek modern design comes in black, white, or red.
Resolution: 854×480 (native)
Brightness: 150 lumens
Contrast: 1000:1
Battery Life: N/A (outlet powered)
Key Features:
Extremely slim 2 x 5.2 x 0.5 inch design
Projects between 24-100 inch screens
Brightness tailored for darker rooms
HDMI input for wired smartphone hookup
Available in black, white or bold red
Low profile modern aesthetic
Compare Smartphone Projector Specs
With so many options, here's a comparison of resolution, brightness, contrast ratio, battery life, and dimensions to help narrow down the ideal model:
| Model | Resolution | Brightness | Contrast | Battery Life | Size |
| --- | --- | --- | --- | --- | --- |
| Anker Capsule II | 720p | 200 lumens | n/a | 2.5 hrs | 5.9 x 2.9 in |
| PHIATON BT 100 MW | 720p | 100 lumens | n/a | n/a | 3 x 3 x 1.5 in |
| Anker Capsule Max | 720p | 200 lumens | 400:1 | 4 hrs | 6.1 x 6.1 x 2.4 in |
| LG PF50KA | 1080p | 550 lumens | 100,000:1 | 2.5 hrs | 4.3 x 4.3 x 1.9 in |
| Aaxatec L30 | 480p (input 1080p) | 300 lumens | 2000:1 | 3 hrs | 6.7 x 4.2 x 1.7 in |
| MUGOAO Mini | 480p (input 1080p) | 55 lumens | 1000:1 | n/a | 2.5 x 2.5 x 1.6 in |
| Vitco Foco F1 | 480p (input 1080p) | 250 lumens | 800:1 | 3 hrs | 3.5 x 3.5 x 1.3 in |
| APEMAN Mini | 480p (input 1080p) | n/a | 2000:1 | 2 hrs | 3.1 x 3.1 x 1.6 in |
| Bomaker WiFi | 1080p | 4000 lumens | 2000:1 | n/a | 9.4 x 6.5 x 4.3 in |
| Kodak Luma 150 | 480p (native) | 150 lumens | 1000:1 | n/a | 2 x 5.2 x 0.5 in |
With a wide range of options, choose based on your exact needs:
Super compact and lightweight – Anker Capsule II, PHIATON BT 100 MW, Kodak Luma 150
Brightest for daytime/outdoors – Bomaker WiFi, LG PF50KA
Great connectivity – Anker Capsule Max, Aaxatec L30
Longest battery life – Anker Capsule II, LG PF50KA, Aaxatec L30
1080p resolution – LG PF50KA, Bomaker WiFi
Most affordable – PHIATON BT 100 MW, APEMAN Mini
Review this comparison alongside your priorities to pick the perfect portable smartphone projector!
Enjoy Big big-screen viewing Anywhere
Portable smartphone projectors enable easy big-screen viewing of movies, shows, videos, photos, presentations, and more anywhere you want. Models tailored for smartphone connectivity provide exceptional convenience for on-the-go media enjoyment.
This guide covered key factors like brightness, resolution, battery life, and wireless casting capabilities to look for when shopping for an iOS or Android projector. We spotlighted highly-rated options in different price ranges and use cases. With so many stellar choices, you're sure to find an exceptional smartphone projector to take your mobile viewing to a whole new level.
Instead of crowding around a tiny phone display, experience your content in a cinematic new way with a convenient portable projector. All you need is a wall and your smartphone!